Ford
MkII RS 1800 Terzi FIA Gr2
built year

1979

body color

Bleu

interior

Black

price

sold
Chassis #Terzi08 - Freshly restored & totally original.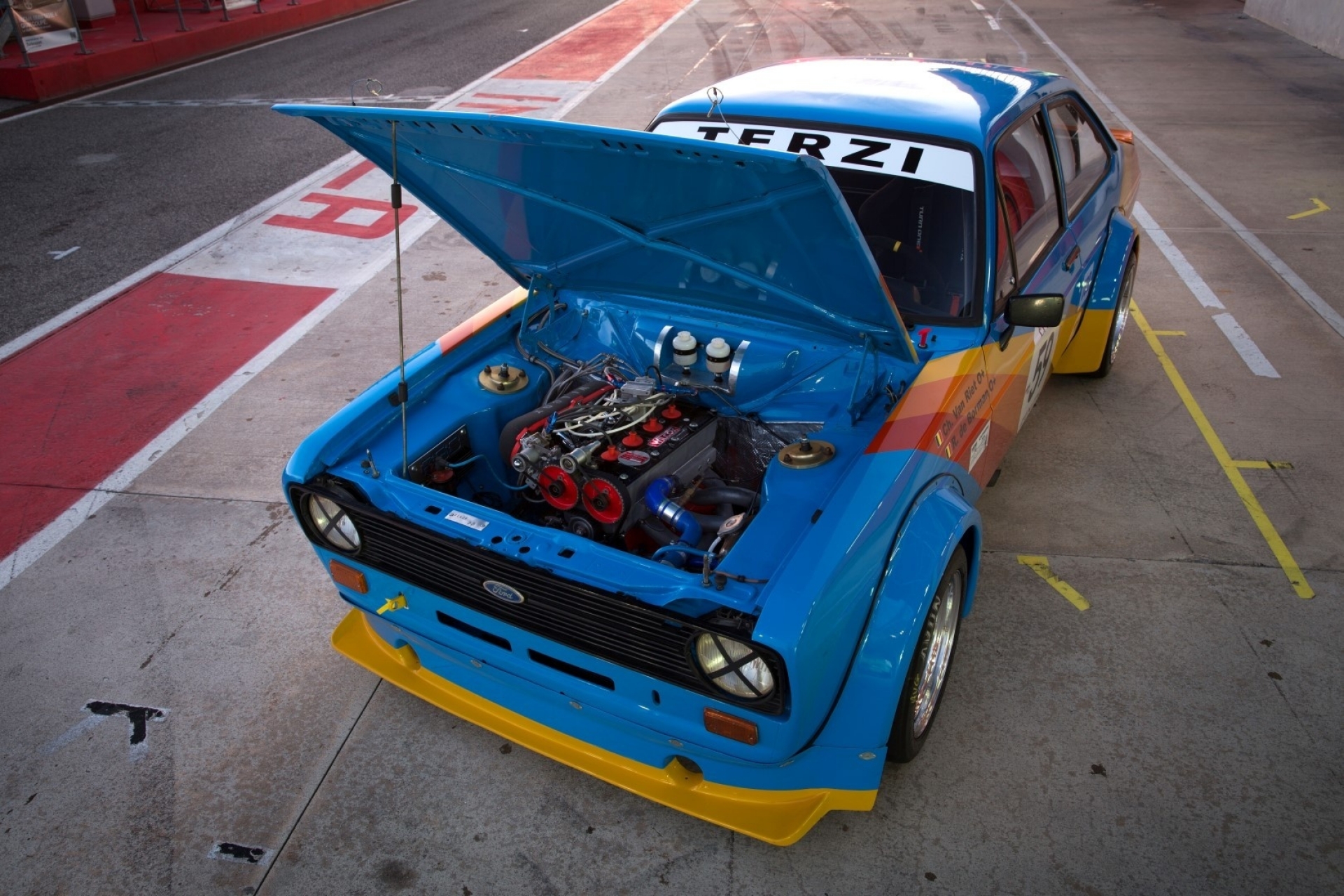 In 1976, FIA introduced a new "Annexe J". This more or less repeated the 60's approach; group
2 was intended for privateers and tuners, who could consist an European Touring Car
Championship, group 5 was the new "silhouette" formula for works teams.
The cars could be modified far less than the old group 2 of 1970-1975, to such extent that the
older cars could hardly be used, especially the successful cars like the Capri RS3100, the Escort
mk1 BDA, the 16-valve BMW 2002 and even the CSL. The main difference to the previous
period were as follows:
- it was no longer possible to homologate just 100 cylinder heads, gearboxes etc. The full
1000-car series had to have these extras
- the wheel arch extensions were limited in size (to "eyebrows")
- dry-sump lubrication was forbidden, a silly rule which almost killed the championship
instantly. This was corrected mid-season in 1977.
- engines could be overbored only 0,6 mm, even less than the strict 1963 rules allowed for.
This handicapped the Escort especially.
- divisions were initially 0-1300 cc (div. 1), 1301-2000 cc (div. 2). 2001-3000 (div. 3) and over
3000 cc (div. 4). From 1977, a 1600 cc division was added.
The works teams, apart from Jaguar, did not take part in the championship, albeit tuners like
Zakspeed (Ford Escort), Alpina, Luigi, Juma (BMW CSL) and AMG (Mercedes) probably received
some kind of works blessing.
During this first season, well-known German Ford team Zakspeed entered a new-style Ford
Escort mkII RS1800 in the 1300-2000 cc class, only to withdraw after a few races because of oil
surge problems - these related to the new regulations.
From July 1, 1977 FIA allowed dry sump systems to help teams (albeit Broadspeed Jaguar and
Zakspeed Escort) to get rid of their oil surge problems. A the Nurburgring race, Zakspeed
consequently sent two Escorts (Mampe) with Heyer/Hahne and Schommers/Müller Sr – and
dry sump engines, of course. Heyer/Hahne finished third – proving the car competitiveness.
In 1978, the Zakspeed Escort of Schommers/Denzel/Hahne won the Nurburgring race after the
sister car of Ludwig/Hahne blew his engine.
In 1979, Zakspeed fielded a two-car team (D&W colors) for the whole year with - among others
- Heyer and Niedzwiedz at the wheel. They were regular top 5 contenders but for 1980, the
Zakspeed team pulled the plug.
In 1982, the arrival of the group A regulation spelt the end of the group 2 era for the European
Touring Car Championship.
In 1979, well-known Italian Ford Escort specialist, Gabriele Terzi built 2 new Escort mkII - fitted
with the 1840cc BDA and 4-speed gearbox accordingly to FIA group 2 regulations, with chassis
number TERZI 08 and TERZI 09.
TERZI 09 was used sporadically in the Italian Touring Car championship and then in hill climb
races.
The TERZI 08 history is quite easy to trace. Gabriele Terzi finished it for the "Copa Leopoldo
Carri" raced at Monza in October 1979. Giovanni Miranda raced TERZI08 as he would do during
its entire racing career...
He also raced it at Vallelunga for 2 more races 1979. During the 1980, 1981, 1982, 1983
seasons of the Italian Touring Car championship (mixing with group 5 and 6 cars), Giovanni
Miranda was a regular entrant. In 1979-81, he was regularly competing against the ex-
Zakspeed Escort of Mario Ruoso (this car is now fully restored in the UK).
In 1985, his friend Guiseppe Stanco used the car twice.
The car was then stored and unused for more than 30 years before being carefully restored.
The engine has been totally rebuilt by UK specialist John Wilcox. It has then been tested on a
rolling road and set up correctly with the help of Peter Jones from Jondel Engines.
TERZI 08 is now ready to race again.
Gabriele Terzi (still active in his little workshop in Treviglio) identified the car as being TERZI 08
and was happy to remember his glorious time with us.